If you want to wow at your next party then you need certain beauty products to take a fresh look at your make up techniques. The right use of base, cover, eye shadow and lipstick can help you to make the most of your natural beauty.
Make up application is about enhancing your best features and creating a stunning finish that grabs attention for all the right reasons.
Getting Started
The secret to achieving the right party look starts with base. You will need a hard-working foundation that will last the night through without fading.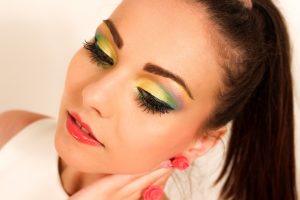 · Look for base products that provide long-lasting protection.
· Estee Lauder's Double Wear for example can offer up to 15 hours of cover which is ideal to last you into the early hours.
· This sumptuous formula provides even cover with a wonderful natural finish.
· Ideal for creating the perfect beauty base for your party look.
Cover Up
The weather and busy lifestyles can take their toll on your skin. Cover up any untimely breakouts with a good cover product applied after your base.
· Avoid light reflecting concealers for your party though as these will reflect flash photography and bright party lights.
· Instead opt for matt cover products such as Liquid TimeBalm Concealer. This also has antibacterial properties to also help heal and clear up spots.
Shimmer
For a really great beauty party look choose a blusher that offers a little sparkly shimmer. Bobbi Brown Shimmer Bricks are available in flattering coral and bronze tones. These will look amazing brushed across your cheekbones and takes your party look to the next level.
Glamorous Eyes
Parties are a great time to enhance your natural beauty with some fun and funky eye makeup. Give your eyes a shot of color with Urban Decay's glittery eye powders. These are available in a wide range of attention-grabbing colours that will brighten your eyes and make them really pop.
Luscious Lips
Plump up your pout with some intense lipstick. MAC Lipstick in Russian Red looks amazing when freshly applied but also wears evenly and subtly throughout the night to create a sinful stain of deep red. This is ideal for a night of partying when you are too busy to reapply.
Play around with your make up this year and try something a little different. There are lots of products designed to help you make the most of your natural beauty and create the perfect party look.